The buyer is responsible for freight costs.
UPS
Orders less than 150 lbs will be shipped via UPS. Our Shopping Cart system will compute UPS charges for orders weighing less than 150 lbs. For orders weighing over 150 lbs, the shopping system will not complete the transaction and it will be necessary for you to phone in the order at 1-800-966-3098 or fax the order to 724-658-8968. Here's an estimate of how long your shipment will be in transit: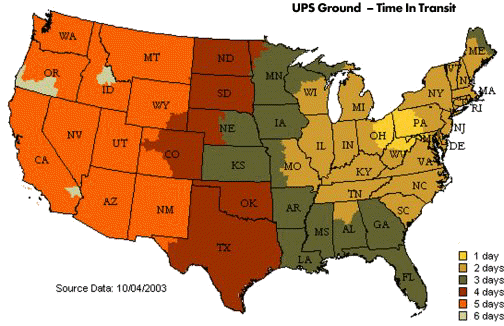 COMMERCIAL CARRIER
Chinaware shipped via commercial carrier will be shipped on skids and stretch-wrapped to insure safe delivery. All damage must be noted on the bill of lading and claims filed with the carrier. (See below) Product is insured a flat rate of $90 per cwt. Most orders are shipped within 48 hours! (We rarely have problems with breakage.)
If the buyer does not specify a carrier, we will use one of our approved carriers. Depending on both what you order and where we have inventories, we can ship from one of 4 locations in the USA. Hopefully, the location nearest to you has sufficient stock to minimize freight costs.
RETURNS OF STOCK PRODUCT
Any returns that are not defective or are not as a result of our shipping error are subject to a 20% restocking fee. All returns must sent prepaid to us, and must be marked with an RMA sticker... Return Material Authorization, which we will send to you. Accordingly, you need to call us for the RMA within 30 days of the original shipment. To receive credit, all product must be returned in unused, resalable condition in the original cartons. ***WE DO NOT ACCEPT RETURNS OF ANY CUSTOM DECORATED PRODUCTS***
FREIGHT CLAIMS
Please inspect your arriving shipment for any damage.... if there is damage, the freight company is responsible and you should file a claim with them. Also count the number of cartons and make sure that it agrees with the bill of lading. If it doesn't, file a claim with the freight company. Too may times, someone will just sign anything put in front of their face without verifying it. If you do this we can't help you. If we say we shipped 20 cartons and you sign for 20 cartons, please don't call us 3 days later when you count them and find only 15 cartons. Come on now...