Restaurant china, mugs, specialty plates, logo'd dinnerware at factory direct prices!

Bryan China Company

Upscale your dinnerware with Precious Metals or Color Banding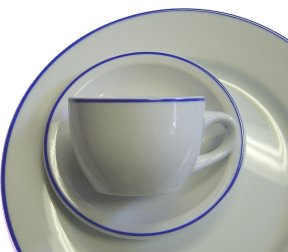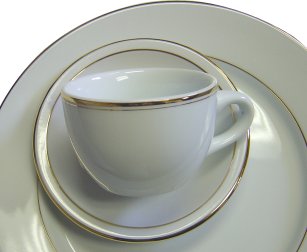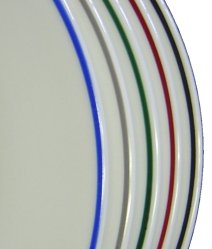 ~~~~~~~ Banding Options ~~~~~~~
| | |
| --- | --- |
| Edge | We place one 2 mm band on the inside edge of the plate, about 2 mm from the extreme edge. The width of the band is approximately 2 mm or a little less than 1/8". (See the Pic at above left) |
| | |
| Edge & Verge | In addition to the Edge band, we also put a second, thinner (1mm) at the verge which is where the rim and the well of the plate meet. Where there is no verge, like the cup in the photo above, we place the second line next to the Edge band (Pictured at above center) |
| | |
| Colors Available | Blue, Black, Maroon, Hunter Green, Gray, 23k Gold, Platinum. (Please note that 23k Gold and Platinum are precious metals and are not microwave safe. We also recommend hand washing to provide maximum durability. The color bands are microwave and dishwasher safe) |
Please call or email for a no-obligation quote!
Bryan China Company
Telephone 1-800-966-3098
FAX 1-724-658-8968
657 Northgate Circle
New Castle, Pa 16105 USA
[ Up ] [ Shapes ] [ Nevada ] [ Salad & Pasta Bowls ] [ Accents ] [ Monterey ] [ Alaska ] [ Banding ] [ Reno ] [ Greenbay ] [ Colored Bands ] [ Restaurant Tips ] [ Shipping ] [ Colorado ] [ Concentrix colored glaze dinnerware for restaurant, catering, and banquet use. ] [ Mugs ] [ Chains ] [ Accessories ] [ Custom Dinnerware ] [ Tapas ] [ CLOSEOUT SPECIALS ]